Ozbert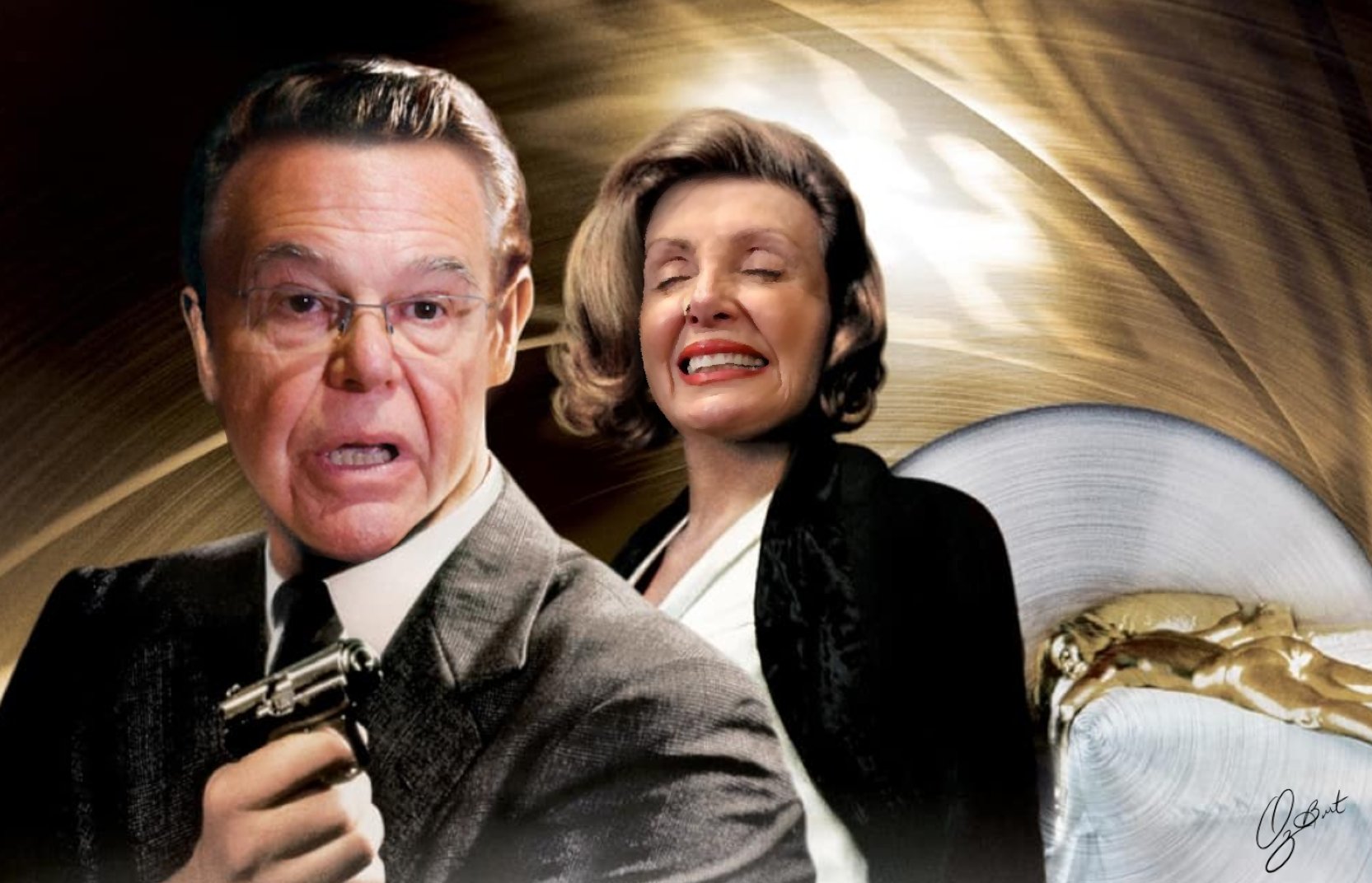 Eric Swalwell Jealous He Can't Empty His Thunderballs in Nancy Shitler's Pelosi
🤣🤣🤣🤣 Always take your bribes in ....Gold! pic.twitter.com/GMnvi8n3Ta

— 🪖Impenitent2A (@Impenitent2A) September 26, 2023
From Russia With Love, Uh … With A Layover In Ukraine
US Supportin 57,000 First Responders And Small Businesses
https://www.dailymail.co.uk/news/article-12558067/US-Ukraine-aid-farmers-businesses.html
Money has also helped small business, including a knitwear company run by Tatiana Abramova (pictured), who has received support to find international customers
God, this is disgusting.

Imagine being a "Republican" and joining forces with Pocahontas and Blumenthal in Ukraine.

Aunt Bea should never get another vote or another dollar from conservatives. https://t.co/xinrupwOYa

— john jackson (@pvtjokerus) September 25, 2023
Meanwhile We Have How Many Illegals Flooding the Country?
https://www.reuters.com/world/americas/migrant-encounters-us-mexico-border-pace-reach-record-highs-september-2023-09-21/
It's an invasion, plain and simple:
"There were 304,162 border encounters during…the highest monthly number on record…With still another month of data to be recorded for the fiscal year... on pace to exceed 3 million encounters."https://t.co/tdFXrkf039

— VDARE (@vdare) September 25, 2023
This Was Not The Nazi Trudeau Was Referring To During The Trucker Protests
https://www.zerohedge.com/political/polish-minister-has-taken-steps-extradite-ukrainian-nazi-veteran-honored-trudeau-govt
A high ranking Polish government official is pressing for Warsaw to begin an extradition request for Yaroslav Hunka, the 98-year-old Ukrainian Canadian who served the Nazi SS Galizien formation in WWII. Hunka was hailed as a "Ukrainian hero" and a "Canadian hero" by Justin Trudea's government days ago, receiving a standing ovation in the House of Commons also as Ukraine's Volodymyr Zelensky looked on and cheered.
Polish Education Minister Przemysław Czarnek announced on Tuesday he has "taken steps" to initiate the extradition of Hunka to Poland for possible war crimes.
Big Mike Putting On The Ritz At the Big Mic
$750,000 For A Single Speech
https://nypost.com/2023/09/26/michelle-obama-earns-nearly-750k-for-one-hour-speech/
The 59-year-old former lawyer spoke to an estimated 5,000 attendees on how to "push past self-doubt while discussing the importance of inclusivity and diversity" at the annual Bits and Pretzels forum in Munich — a start-up event held on the sidelines of the annual Oktoberfest beer festival, according to the event website.
For her speech, Obama was paid 700,000 euros, which is roughly equivalent to $741,000, two unidentified sources close to the conference organizers told the Daily Mail.
Do Your Banking With Chairman Mao!
During Brandon's campaign, Humper Biden received $260,000 from CCP with Brandon's address
https://nypost.com/2023/09/26/hunter-biden-received-260k-from-beijing-during-dads-campaign-with-dad-joes-address-on-wire-comer/
First son Hunter Biden received two wire transfers from Chinese nationals worth a total of $260,000 months after dad Joe began his 2020 presidential campaign — and with the elder Biden's Delaware home listed as the beneficiary address, a key House Republican said Tuesday.
Oversight Committee Chairman James Comer (R-Ky.) revealed financial records that his panel subpoenaed turned up the transfers in July and August 2019.
Don't Worry, That's Nothing, A Judge Just Disolved Trump's LLC in New York
Trump must turn executorship of his NY business entities over to a court appointed third party in 10 days.
https://nypost.com/2023/09/26/trump-fraud-ruling-a-devastating-blow-for-ex-president-experts/
A Manhattan judge ruled that the businessman greatly exaggerated the value of his wealth to secure favorable terms with banks, which ultimately led him to worldwide fame — and into the White House.
"The decision today is a final decision that fraud is proven. The judge made this decision on the basis of Trump's own documents. The evidence is Trump's own documentation," Andrew P. Napolitano, a former New Jersey Superior Court judge, told The Post.
https://www.zerohedge.com/political/trump-rages-deranged-ny-judges-corporate-death-penalty-decision
"It's a staggering judgement," said John Moscow, a former financial crimes prosecutor for the Manhattan district attorney's office.

"It means you are no longer a company, and the judge is appointing someone to take over the assets and distribute them as the court sees fit."

"It's comparable to once a person dies. A dead person can't sell property. Only the executor of the estate can do that – or in this case, the receiver."
JUST IN - A New York judge ruled that Trump inflated his property values, including Mar-a-Lago, which the judge determined was worth $18-$27 million from 2011 to 2021.

To put this into perspective, neighboring homes on 0.28-0.89 acres are listed for $18-40 million.

Mar-a-Lago,… pic.twitter.com/cpqICdAynf

— KanekoaTheGreat (@KanekoaTheGreat) September 27, 2023
Need To Rebuild Schools in Ukraine, Send Hillary's Spirit Cooking Friend Abramovic
https://archive.ph/9W65g#selection-3021.141-3021.196
"I was the first artist to support the Ukraine war against Russia and to give my voice. It is definitely a repetition of history," she said in an interview with the Modern Art Museum in Shanghai. 
"I have been invited by Zelensky to be an ambassador of Ukraine, to help the children affected by rebuilding schools and such."
What is Spirit Cooking?  Ritualized display of art made with bodily fluids, but remember, magic rituals also use bodily fluids.
https://www.theguardian.com/artanddesign/2016/nov/04/marina-abramovic-podesta-clinton-emails-satanism-accusations
Marina Abramović mention in Podesta emails sparks accusations of satanism.  An email from the artist forwarded by Clinton's campaign chief has been seized on by the right as proof that the Democratic candidate has links with the occult.
In a leaked email between Clinton's campaign chairman, John Podesta, and his brother Tony Podesta, an invitation from Abramović is forwarded. It reads: "I am so looking forward to the Spirit Cooking dinner at my place. Do you think you will be able to let me know if your brother is joining?"
Documented events of spirit cooking, with Deborah Harry and Abramovic
https://www.mirror.co.uk/3am/celebrity-news/debbie-harry-dresses-as-a-corpse-at-moca-91408
Deplatforming Russel Brand Is Really About Attacking Rumble
https://www.theguardian.com/culture/2023/sep/23/firms-pull-ads-from-rumble-platform-over-russell-brand-videos
Allegations against Russel Brand from anonymous sources regarding rape and sexual assault have prompted corporations to pull ads from the Rumble platform.  They are Burger King, Asos, the Barbican and HelloFresh.  Over mere allegations, the UK Parliament has asked Rumble to remove Brand from the platform.  No trial, no review of evidence, no court case.  Deplatform Brand.
"Singling out an individual and demanding his ban is even more disturbing given the absence of any connection between the allegations and his content on Rumble."
Rumble's response to the UK Parliament's letter to our CEO @chrispavlovski pic.twitter.com/iSCpHIHoU4

— Rumble - 🏴‍☠️ $RUM (@rumblevideo) September 20, 2023
Here's where the Guardian has it wrong:
Brand regularly posts content on Rumble ranging from conspiracy theories to critiques of mainstream media.
Speculation may imply conspiracies but conspiracy theory is a pejorative to keep you on the plantation and not subscribe to ANY SPECULATION.  IN OTHER WORDS, ASK NO QUESTIONS AND YOU'LL BE TOLD NO LIES!
But the UK can force Rumble out of the country.
The new law says internet firms must prevent children from seeing pornography as well as any material promoting eating disorders, self-harm and suicide.
Violent content and material harmful to health, including misinformation about vaccines, will also be barred.
And platforms will also be told to take down illegal material such as videos inciting violence or race hate.
Former Facebook executive Lord Allan of Hallam told The Times a new crackdown could deter Rumble's management.
The UK government created an online "watchdog" that has the new power to regulate foreign companies with services received in Britain:
An Ofcom spokesman said: "Ofcom is preparing to regulate online safety by ensuring that tech companies have effective measures in place to protect their users, particularly children.
"As well as establishing these standards, we will engage regularly with services to understand what they are doing to protect their users, and push them to make improvements where needed."
Till Next Time  …